A CONVERSATION WITH DR. ROHINI ANAND
2 DECEMBER 2021, ONLINE
Dr Rohini Anand, interviewed by Tanya Cruz Teller presented a special learning experience based on the five principles in Rohini's new book.
Make it Local
Leaders Change to Lead Change
And its Good Business, Too
Go Deep Wide & Inside-Out
Know What Matters & Count it
Tanya facilitated the discussion with Rohini, to get answers to the questions you asked. Hosted by The Centre for Global Inclusion and sponsored by The Kaleel Jamieson Consulting Group.
---
EVOLVE 2021 – COLLABORATING FOR CHANGE
20 – 22 OCTOBER 2021, ONLINE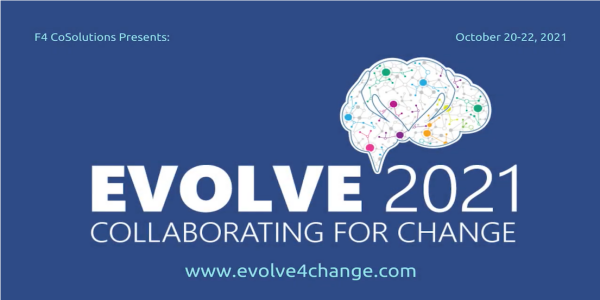 A Collaboration Kaleidoscope
Beginning November, 2020, two consultancies – the Rocky Mountain Center for Positive Change and Spaciousness Works– joined forces to design and deliver a DEI-centered, Appreciative Inquiry-based strategic planning process for a child and family services organization in South Carolina, Georgia and Florida. The nature of the work called for exceptional collaboration, respect and trust between team members, to meet the demands of a highly challenging, time-sensitive, emotionally-laden project. They had to form positive, productive relationships and learn to work well across many differences: race, age, time zones, citizenship, cultural contexts, skills and experiences. Applying the best practice for successful, highly diverse teams, they regularly set aside time to focus exclusively on their relationships with one another. Since both teams had previously collaborated with ICW Consultants, they asked them to facilitate reflective spaces for their consulting team over the course of their work.
During the circle conversation, the four principal consultants explored the gifts, challenges and learnings derived from the "collaboration kaleidoscope" of their work together. Focusing on their personal experiences of the collaboration (rather than the strategic planning process that was successfully delivered to the client), their conversation were framed and supplemented by Ilene Wasserman – ICW consulting who facilitated their "relational check-ins."
Circle participants from Rocky Mountain Center for Positive Change: Amanda Trosten-Bloom & Kara Schmitt.
Circle participants from Spaciousness Works: Tanya Cruz Teller & Marlene Ogawa.
To find out more visit https://evolve4change.com/2021/.
---
ASSOCIATION FOR TALENT DEVELOPMENT ANNUAL INTERNATIONAL CONFERENCE
29 AUGUST – 1 SEPTEMBER 2021, SALT LAKE CITY, UT, USA
GDIB (The Centre for Global Inclusion) are pleased to announce presentations that inform about the Global D&I Benchmarks and our systems approach were offered at this conference on 29 August 2021: change for Diverse, Equitable, and Inclusive Workplaces.
Presenters: Tanya Cruz Teller, Spaciousness Works, South Africa, with co-presenters and former ATD presidents: Dave Jamieson, St. Thomas University, USA and Julie O'Mara, The Centre for Global Inclusion, USA;
Go here for more information https://atdconference.td.org
---
THE FORUM ON WORKPLACE INCLUSION ANNUAL CONFERENCE
8 – 12 MARCH 2021, ONLINE
Co-facilitator of workshop Activating Relational Power to Dismantle Systemic Racism in the Workplace:
Tanya Cruz Teller, Lori McDaniel, and Adria Kitchens share a framework for systematizing the relational practices that increase workplace inclusion. Learning outcomes included:
• Groundbreaking relational power strategies that remove common DEI obstacles in the workplace
• Understanding the role of identity as a game-changer in workplace inclusion
• An experience of strength-based dialogues for transforming racism
Moderator for one of the general sessions on day two Equitable Development and Advancement of People at the Workplace Revolution 2021 – From Talk to Collective Action:
A discussion on equitable development and advancement of people, and how we can ensure fair practice and equitable opportunities for marginalized people to develop their talents and advance toward greater success in the workplace.
Send enquiries for speaking, moderation and facilitation to hello@spaciousness.works
Events: