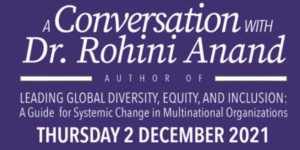 2 DECEMBER 2021, ONLINE
Join this free webinar, with Dr Rohini Anand, interviewed by Tanya Cruz Teller presenting a special learning experience based on the five principles in Rohini's new book.
Make it Local
Leaders Change to Lead Change
And its Good Business, Too
Go Deep Wide & Inside-Out
Know What Matters & Count it
Tanya will facilitate the discussion with Rohini, to get answers to the questions you would like to ask. Hosted by The Centre for Global Inclusion and sponsored by The Kaleel Jamieson Consulting Group.
The webinar is 60 minutes using the Zoom platform. Your registration confirmation will contain the start time in your time zone. Apologies for unfavorable times for some. 11:00 am New York, USA ⋅ 4:00 pm London, UK ⋅ 9:30 pm Mumbai, India.