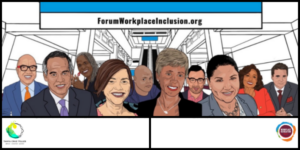 8–12 MARCH 2021, VIRTUAL
Tanya Cruz Teller was the moderator for one of the general sessions on day two: of Equitable Development and Advancement of People at the Workplace Revolution 2021 – From Talk to Collective Action.
A discussion on equitable development and advancement of people, and how we can ensure fair practice and equitable opportunities for marginalised people to develop their talents and advance toward greater success in the workplace.
She was also a co-facilitator on the workshop Activating Relational Power to Dismantle Systemic Racism in the Workplace.
Tanya Cruz Teller, Lori McDaniel, and Adria Kitchens shared a framework for systematising the relational practices that increase workplace inclusion. Learning outcomes included:
Groundbreaking relational power strategies that remove common DEI obstacles in the workplace.

Understanding the role of identity as a game-changer in workplace inclusion.

An experience of strength-based dialogues for transforming racism.