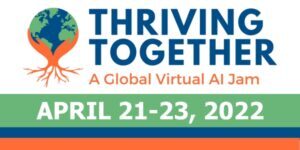 21–23 APRIL 2022, VIRTUAL
This was THE Global Appreciative Inquiry gathering of the year! With 40+ speakers, 30 sessions, sessions in English, Spanish, French, Dutch, and Portuguese,
spanning across every time zone. The AI Jam's goal is to increase access to Appreciative Inquiry practitioners, stories, research, dialogue
and so much more. This year's innovation was aimed at invigorating regional hubs in particular.
Marlene and Tanya were delighted to be South Africa regional hosts for the Jam's global panel and two sessions:
Organisational Change: A DEI Journey from Intention to Action with Inquiry
Hosts Tanya Cruz Teller & Marlene Ogawa with Speakers Kara Schmitt, Barbara Lewis, Amanda Trosten-Bloom (Rocky Mountain Center for Positive Change, USA) and Liesel Scott (Open Circles, South Africa).
In this panel conversation, participants could hear from experienced and novice Appreciative Inquiry practitioners sharing the DEI with AI processes they learned and applied in their own personal and collective work, positively impacting their business. How do white-led organisations grow from an intention to become more diverse, equitable, and inclusive in a framework of actions? What is the personal journey that their leaders can take to move from intention to action with Appreciative Inquiry? One of our hopes was to emphasise that while this work can feel overwhelming, continuing to identify the next best step and doing so in dialogue with others is professionally impactful and personally meaningful.  We hope this will encourage others to consider where and how they might begin.
AI in the Tragic: From Hurt to Healing with Generative Questions
Joan MacArthur-Blair's and Jeanie Cockell's seminal book on Resilience with AI, David Cooperrider invited us to practise the least understood AI: Appreciative Inquiry in the Tragic. For some that has meant AI in organisations responding to the pandemic, for us it has meant AI in response to the social change of our time: working to increase intercultural, diversity, equity, and inclusion in families, communities and organisations. This means not avoiding nor dis-regarding the trauma and exclusion of marginalised people and identities, nor the shame and discomfort of privilege – instead, finding what is life-giving within the sorrow to blossom from.
From WAIC 2019 (our gender equity keynote) to our first AI Jam in Vermont (DEI session that led to an Open Space session of Generative Questions) to our global DEI with AI Course, we've seen that AI practitioners continue to yearn for how to (and some grapple with why) transform the tragic and the painful with Appreciative Inquiry. Our experience working to increase DEI by inquiring into what is life-giving in a tragedy can be central to everyone's AI practice.
This was a working session as insights and clarity are found through practising formulating generative, appreciative questions within (not outside of) marginalised identities. Inspired by our Appreciative Leadership Lotus Model, the flower can only grow from the mud, let us find our strengths in the most unlikely places and experiences. We began by presenting our South African insights from working
with over 100 DEI with AI practitioners across the globe (whose networks reach in the thousands) and then started working collaboratively in different groupings by diversity markers. We ended with sharing both generative questions and experiences across groups to inspire and build our capacity to thrive together!
Video of highlights from the event – Highlights of Thriving Together: A Global Virtual AI Jam