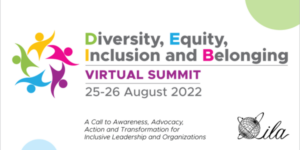 25–26 AUGUST 2022, VIRTUAL
A Call to Awareness, Advocacy, Action, and Transformation for Inclusive Leadership. 
The ILA community and others who are passionate and purposeful about Diversity, Equity, Inclusion, and Belonging (DEIB) from a global perspective examined the intersectionality of the components of diversity in two days of empowering speakers, deep-dive workshops, and information-rich roundtable discussions.
Tanya facilitated the workshop: From Transactional to Transformative: Fostering Appreciative Leadership as a Foundation and Catalyst for DEIB, Spaciousness, and True Change
Overview: How can we harness hope, positivity, and possibility to generate and co-create new and transformative ways of engaging and working together that are truly inclusive, equitable, and just? In this workshop, Tanya Cruz Teller engaged participants in learning about the principles and process for using an appreciative approach to individual and collective change for diversity, equity, inclusion, and belonging. She shared insights from client work, ranging from non-profits in the U.S., for-profits in South Africa, and a government agency, a network spanning 64 countries. Building on the concept and practice of appreciative leadership, which she defines as "a relational process by which people emphasise appreciative relationships to themselves and each other, seek to build on that which is working well, and together innovate that which is possible into fruition," (Cruz Teller, 2021, pp. 396-397), and grounded in her Spaciousness Theory of Change, Cruz Teller guided participants as they experience the power of a positive approach that not only encounters and considers the complexities and conflicts of the times we live in, but also supports us to find new directions and possibilities that truly inspire inclusion, innovation, action, and change.
Reference: Cruz Teller, T. (2021). Inspiring inclusion with the Appreciative Leadership Lotus Model. In B. M. Ferdman, J. Prime, & R. Riggio (Eds.), Inclusive leadership: Transforming diverse lives, workgroups, and societies (pp. 394-406). Routledge.