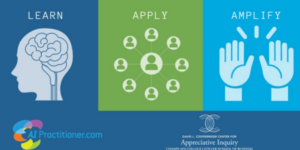 14 FEBRUARY 2023, VIRTUAL
Tanya Cruz Teller and her co-editors hosted a free webinar to hear from and converse with contributing authors and guest editors of the November 2022 issue of the AI Practitioner Journal, Learning and Leveraging Generative Approaches to Intercultural, Diversity, Equity, and Inclusion. 
The commitment to meaningfully and transformatively addressing intercultural, diversity, equity, and inclusion issues in organisations has grown exponentially.
In this issue, we invited a diverse group of people to tell the stories and share their experiences of discovery and learning  from this work.
The articles also celebrates the diversity of journeys and hard work within organisations.
Please go to our Publications Page for a full list of our publications and articles.