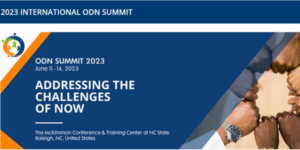 11-14 JUNE 2023, RALEIGH, NC, USA
Spaciousness Works' Tanya Cruz Teller and Stephen Read attended the 2023 OD Network Summit, a premier event dedicated to organisational development and transformation professionals.
ODN states: "In response to the requests of our members for a more immersive and impactful experience, we were offered the opportunity to present our innovative approach to the 2023 international gathering. We completely reimagined the traditional conference format to provide ample time to practice, connect, and make a meaningful difference. Whether you are a seasoned OD professional, an emerging practitioner, a student, or simply curious about OD, this event offered a unique opportunity for collaboration. Together, we delved into the practical application of powerful methodologies such as Appreciative Inquiry, human systems dynamics, and whole system change, empowering you to create positive transformations in your practice and communities." 
For more information on the Appreciative Inquiry track – Earthshot OD – that Spaciousness was a part of click here.