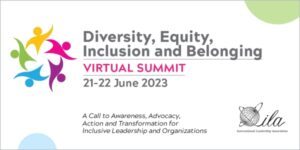 21-22 JUNE 2023, VIRTUAL
The International Leadership Association (ILA) hosted the Diversity, Equity, Inclusion, and Belonging 2023 Virtual Summit. In this insightful gathering, professionals, experts, and global thought leaders convened to raise awareness for Diversity, Equity, Inclusion and Belonging (DEIB) through learnings and advocacy that impact social justice and equity. The interactive gathering also shared the how, the innovative actions required to drive meaningful change. 
An exciting highlight of the event was the fireside chat featuring Tanya Cruz Teller, who illuminated the transformational power of her groundbreaking Spaciousness Works Appreciative Leadership Lotus Model, providing invaluable insights for leaders seeking to create inclusive and empowering environments.
The fireside chat offered the opportunity to gain insights from a renowned expert in the field, learn practical strategies for inclusive leadership, be inspired by her engaging presentation style, and connect with a network of individuals who share a commitment to diversity, equity, inclusion, and belonging. It provided a valuable opportunity to enhance leadership skills and contribute to creating more inclusive and equitable environments.