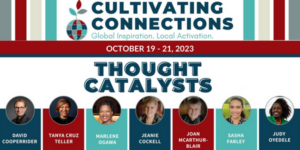 19-21 OCTOBER 2023, VIRTUAL
This year's AI Jam 2023: Cultivating Connections: Global Inspiration, Local Activation will be hosted from 19-21 October 2023 in collaboration with the David Cooperrider Centre for Appreciative Inquiry.  This exceptional event promises to be a source of inspiration, collaboration, and personal growth.
AI Jam 2023, in which Tanya Cruz Teller and Marlene Ogawa are contributors, is a celebration of the profound impact of Appreciative Inquiry on our world. It's a gathering of passionate individuals, change-makers, and thought leaders who are dedicated to creating positive change. Throughout this event, you'll have the unique opportunity to connect with a diverse and vibrant community that shares your commitment to making a difference.
What makes AI Jam 2023 truly remarkable is its focus on the global-local dynamic. You'll explore how global ideas and processes can be harnessed to empower local action, creating a ripple effect of positive change. The event will showcase the incredible potential of AI to serve as a catalyst for transformation in both personal and organizational settings.
Join us at AI Jam 2023 to expand your horizons, connect with like-minded individuals, and gain valuable insights into the world of Appreciative Inquiry. Be part of this empowering journey as we cultivate connections, draw inspiration from around the globe, and activate change in our local communities. Don't miss this opportunity to be a part of something truly extraordinary.