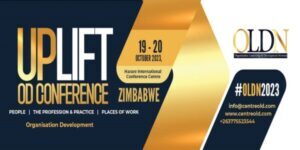 19-20 OCTOBER 2023, HARARE, ZIMBABWE
Join us for the OLDN2023 Conference in the beautiful Zimbabwean setting, where you'll embark on a journey of empowerment and transformation. This conference, which Tanya Cruz Teller and Stephen Read will participate in is your gateway to a world of extraordinary opportunities, designed to empower you with the skills and insights needed to excel in the realm of Organisational Development.
Uncover the remarkable advantages awaiting you at the OLDN2023 Conference. Delve into a treasure trove of invaluable insights, best practices, and highly effective strategies that are essential for cultivating exceptional teams and organisations. Connect with a global community of both seasoned experts and emerging talents in the fields of Organisational Development, Change Management, Strategic Planning, and Human Resource Development. 
Challenge your perspective with innovative approaches that drive profound transformation. Amplify positive change narratives, creating a brighter future for all. Nurture expertise to enable continuous improvement and presence in human systems. Ignite dialogues that spark creativity and foster generative change and new possibilities.
By joining us at the OLDN2023 Conference, you're not just attending a conference; you're embarking on a transformative adventure. This event promises to offer a wealth of opportunities to learn, connect, reflect, amplify, build, and ignite, ensuring that your participation leaves you enriched and ready to make a profound impact in your professional journey and beyond. Come, be a part of this inspiring experience.