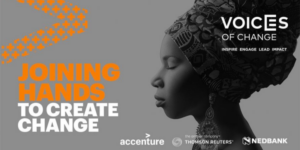 8 AUGUST 2019, SOUTH AFRICA
Women Thriving With Men: A Millennial Perspective, a collaborative effort between Nedbank, Accenture, MTN, and the Business Exchange. 
These conversations aimed at keeping the topic of gender equality alive and relevant. As a moderator, TanyaI explored with millennials generative questions inspired by the book – Thriving Women, Thriving World. Over 300 people gathered and committed to gender inclusion dialogue and action. What a great contribution to Women's Month in South Africa!
Highlights of the event: