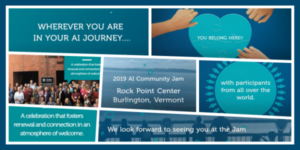 4 – 6 OCTOBER, BURLINGTON, VERMONT, USA
Our Shared and Personal Destiny Champlain College, David Cooperrider Center for Appreciative Inquiry
TAD Talk: Appreciative Inquiry's Wholeness Principle: Bridging My Internal Divides to Create Inclusive Spaces
The JAM is a multi-generational gathering of students, practitioners, and the curious celebrating Appreciative Inquiry, strengths-based and positive approaches to change and life.  The AI Community jams in a celebration that fosters renewal and connection in an intimate atmosphere of welcome. The schedule includes a diverse range of creative appreciative approaches that engage our intellects, emotions, and curiosity.
A few highlights of the agenda:
Embodying the Appreciative using breathing and movement activities with Miriam Novotny, Director of Mosaic Learning Center.
Applying AI to work in communities with Fran Stoddard, Vermont Story Lab, host of Vermont's Across the Fence:  America's longest running TV show!
Building trust in diversity: Tanya Cruz Teller and Marlene Ogawa of South Africa, co-authors, among others, of the incredibly inspiring 2019 book, "Thriving Women, Thriving World."
And back by popular demand, poems by our own Ada Jo Mann!