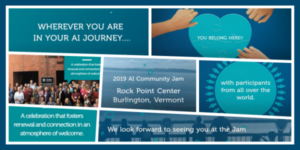 4–6 OCTOBER, BURLINGTON, VERMONT, USA
Tanya took part in a TAD Talk: Appreciative Inquiry's Wholeness Principle: Bridging My Internal Divides to Create Inclusive Spaces, co-presented a session with Marlene Ogawa: Diversity, Equity, and Inclusion Amplified with Appreciative Inquiry, and design and facilitated: Our Shared and Personal Destiny with Champlain College, David Cooperrider Center for Appreciative Inquiry.
The JAM was a multi-generational gathering of students, practitioners, and the curious celebrating Appreciative Inquiry, strengths-based and positive approaches to change and life.  The AI Community jams are a celebration that fosters renewal and connection in an intimate atmosphere of welcome. The schedule included a diverse range of creative appreciative approaches that engage our intellects, emotions, and curiosity.
A few highlights of the agenda were:
Embodying the Appreciative using breathing and movement activities with Miriam Novotny, Director of 

Mosaic Learning Center

.

Applying AI to work in communities with Fran Stoddard, Vermont Story Lab, host of Vermont's 

Across the Fence

:  America's longest-running TV show!

Building trust in diversity: Tanya Cruz Teller and Marlene Ogawa of South Africa, co-authors, among others, of the incredibly inspiring 2019 book, "Thriving Women, Thriving World."

And back by popular demand, poems by our own Ada Jo Mann!