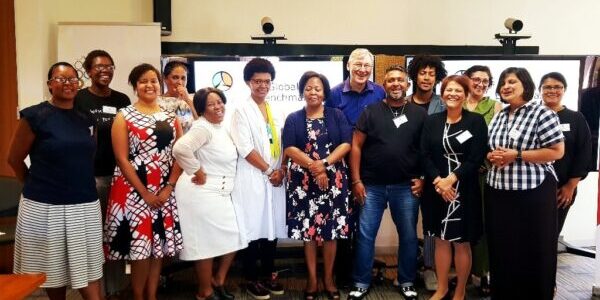 NOVEMBER 2019, SOUTH AFRICA
Two GDIB Expert Panellists, Nene Molefi (Mandate Molefi) and Tanya Cruz Teller (Spaciousness Works), both from Johannesburg, South Africa, attended alongside Alan Richter, co-author of the GDIB, were the international guest facilitator, invited by Executive Director Nazeema Mohamed 
(Inyathelo –  the South African Institute for Advancement). A nonprofit trust established to promote a vibrant democracy in South Africa with a robust and sustainable civil society rooted in the African cultural heritage of sharing hosted two one-day workshops for DEI practitioners – one in Johannesburg and one in Cape Town. The workshop theme was:  Come Think With Us — A Dialogue On The Future Of Diversity, Inclusion, Ethics, And Integrity In South Africa And The World. 
The purpose of these workshops was to:  
Reflect on current diversity, inclusion, and ethics policy and regulatory frameworks in South Africa and globally. 

Identify future trends – what's emerging in the areas of diversity, inclusion, ethics, and integrity.

Discuss tools used to measure change and progress in the field. 

Evaluate the progress we have made in South Africa and identify challenges and barriers to change. 

Establish what we can do collectively to impact the field. 

Draft guidelines/terms of reference for a cooperative and collaborative community of practice in the field.