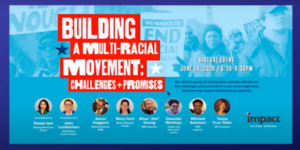 24 JUNE 2020, VIRTUAL
Tanya Cruz Teller was part of a diverse panel of racial justice activists discussing the challenges and promises of cross-racial organising and how to build a multi-racial movement. 
She enjoyed her role as a speaker to over 200 people who joined the discussions online. 
Video from the event, as well as panellists'/moderators' bios, is also available on IMPACT's website.
"I really believe this is going to guide me in decolonization and activism!" — Participant comment